Honeysuckle Wood
Welcome to Honeysuckle Wood Trading Limited, a company named after our 16 acres of Woodland near Raglan in Monmouthshire.
We are firm believers that everyone can have an impact on the environment in which we live and the basic premise of the three R's should be applied to everything we do. Reduce, Reuse and Recycle is not just about waste. We love vintage furniture because it is a form of recycling, we love bikes because they are a green and healthy way to commute and keep fit and we love the woodland because managing it helps our wildlife and promotes biodiversity as well as improving personal wellbeing.
Please follow the links and find more about what we are doing, follow us on social media and browse the items in our online shop.
And come visit us at our shop and showroom: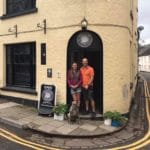 The Griffin
1 Whitecross Street
Monmouth
Gwent
NP25 3BY